Doug is our cabinetry expert and shop manager. With 15 years' experience in cabinetry, Doug is skilled at designing and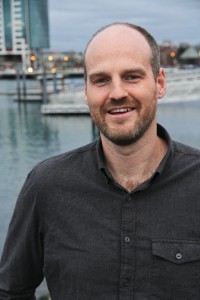 creating unique and detailed pieces. His favourite jobs include clean, modern designs with a touch of craftsman, creative and cultural elements.
Doug enjoys the detailed components of a job that customers notice and appreciate. He has a great ability to meet with customers, understand their ideas, draw plans and deliver the highest quality cabinets.
When Doug is not working he enjoys spending time with his wife, Elissa and his three children: Caleb, Emerson and Sawyer. With young kids at home, Doug is notorious for looking at us wide eyed, with a jovial laugh asking, "Is it bad that I've had five coffees and it's only 10am?!"
In Doug's spare time he enjoys playing hockey, volleyball and Frisbee-golf with the Alderidge crew. He is also a great singer and guitarist. Something that many people don't know about Doug is that he is a bird aficionado- when we see 'just' a bird, he can name the species and the facts surrounding it. It's impressive!
We appreciate Doug for his calm demeanor, relationship oriented approach and his natural ability to build trust with those around him. People feel at ease talking to Doug and know that he has their best intentions in mind. In addition, he has a unique ability to see through challenging situations and offer constructive solutions. He is a great problem solver.
Without Doug we would not be the business we are today, he is an integral part of our team and we feel so thankful to know him!