Ian has worked for Alderidge for just over 2 years. On any given day he can be found creating cabinetry masterpieces in the shop. Ian has worked with wood since he was a teenager and enjoys the creativity and joy that comes along with bringing a customer's idea to life. Working alongside Doug Toews, Ian is responsible for everything from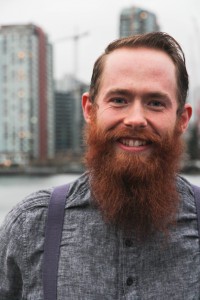 understanding customer's expectations to the final installation in the home. He loves to take pride in the finished product and enjoys new and challenging projects.
Some of Ian's favourite projects include custom pull outs, hampers, floating vanities and unique cuts of wood. His favourite style of renovation is modern-rustic.
On days when Ian is not working for Alderidge, he can be found exploring the great outdoors alongside his wife, Kylie and his daughter, Everest.
We like to refer to Ian as our hipster- mainly because he looks like one, but also because he is into micro-breweries, plaid shirts, big beards, suspenders, cloth diapers, sardines for lunch… yes… we did say sardines, and unicycling. He is also an amazing photographer and runs his own business called Ian Akers Photography.
When we asked Ian why he enjoys consulting for Alderidge, he responded with a smug smile and said,
"I am proud to be a part of a team that is ethical and cares about quality. Alderidge stands behind their work."
We are so thankful for Ian's creative, caring attitude on our team and know that you will love him just as much as we do!